Way back earlier in the summer, I was surprised and delighted to find an email in my inbox:
"Hi Michaela,
Thanks again for your submission to Tangled! We would like to accept your design for the Mary Poppins scarf for publication in our Fall issue."
This was my very first pattern acceptance to a third party publication - I was so excited! It seems like so long ago now that things have moved on so much, and it's so lovely to see this pattern published!
The magazine is
Tangled
, an online mag whose message is clear - "Proud to be Bicraftual". The magazine contains patterns for both knitters and crocheters, and often has patterns including both! I was inspired by this strength of conviction in the magazine, and their Movie Knits theme to design the Poppins Scarf, my knitted take on Mary Poppins classic orange crocheted scarf: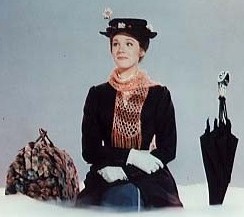 Photo slurped from disney.wikia.com
Photo from Tangled
Knit using Rowan Kidsilk Haze, this scarf is both incredibly warm and incredibly light. The "stickiness" of the mohair allows a really rather delicate openwork stitch pattern to grow with the security of knowing it is not likely to snag and pull at every opportunity.
Photo from Tangled
The pattern features a simple 4 row repeat, using double yarn overs and purlwise twisted stitches (don't worry, it's much easier than it sounds). It knits up very quickly, and adding tassels is always good fun.
Photo from Tangled
I really appreciate the effort Team Tangled went to in photographing and styling the scarf. The vintage hat, carpet bag and purple coat all fulfil the old British look I was aiming for, and the colours work so well with the blues of the scarf. I'd been fortunate enough to preview these a little while ago, however this one was a treat for me this morning:
Photo from Tangled
That's right, Mary Poppins flying across London on her umbrella! Genius!
You can check out Tangled at
www.tangledness.com
and see their fab collection of Movie Knits patterns. The Poppins scarf is available for free on their website (and will remain free indefinitely) and you can download it here:
Poppins Scarf
. If you do knit this pattern (and please do!) why not share your knitting on Ravelry, and link your project to
the pattern page?